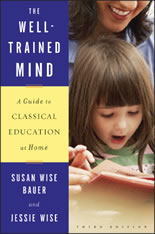 The Well-Trained Mind: A Guide to Classical Education at Home (first published 1999 by W.W. Norton and now in its third edition) offers a step-by-step, grade-by-grade, subject-by-subject guide to the classical pattern of education called the trivium. Thousands of parents have used the curricula, books lists, and methods of The Well-Trained Mind to teach their children successfully at home–either full-time or as a supplement to classroom education.
The Well-Trained Mind is the perfect book for those just starting out with homeschooling, those who have a few years of experience, or those who have been educating their families for a long time and just need to read some recommendations for working with older students. With this model, you will be able to instruct your child in all levels of reading, writing, history, geography, mathematics, science, foreign languages, rhetoric, logic, art, and music, regardless of your own aptitude in those subjects.
Our site complements the information in the book, providing updated resources, articles, links, forum, support, and more.  Begin to explore our site resources here!
How can we help you?
We offer middle and high-school classes through the Well-Trained Mind Academy.
Parent training is available through the Well-Trained Mind Online Conference.
Just getting started?
NOW INTRODUCING! School in a Box for kindergarten and first grade: Everything you need to home school your youngest students for an entire year. See the full description here!<