Have you lost the art of reading for pleasure? Are there books you know you should read but haven't because they seem too daunting? The Well-Educated Mind, by Susan Wise Bauer, provides a welcome and encouraging antidote to the distractions of our age, electronic and otherwise. In her previous book, The Well-Trained Mind, the author provided a road map of classical education for parents wishing to homeschool their children. That book is now the premier resource for homeschoolers. In this new book, Bauer takes the same elements and techniques and adapts them for adult readers who want both enjoyment and self-improvement from the time they spend reading.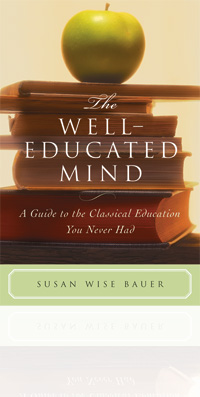 The Well-Educated Mind offers brief, entertaining histories of five literary genres — fiction, autobiography, history, drama, and poetry — accompanied by detailed instructions on how to read each type. The anotated lists at the end of each chapter — ranging from Cervantes to A. S. Byatt, Herodotus to Laurel Thatcher Ulrich — preview recommended reading and encourage readers to make vital connections between ancient traditions and contemporary writing.
The Well-Educated Mind reassures those readers who worry that they read too slowly or with below-average comprehension. If you can understand a daily newspaper, there's no reason you can't read and enjoy Shakespeare's sonnets or Jane Eyre. But no one should attempt to read the "Great Books" without a guide and a plan.
The Well-Educated Mind will show you:
how to allocate time to reading on a regular basis
how to master a difficult argument
how to make personal and literary judgments about what you read
how to appreciate the resonant links among texts within a genre — what does Anna Karenina owe to Madame Bovary? — and also between genres
Followed carefully, the advice in The Well-Educated Mind will restore and expand the pleasure of the written word.
The Well-Educated Mind can be ordered from any bookstore or from Peace Hill Press.
Reviews of The Well-Educated Mind
"be conversant with Sophocles and Rene Descartes"
Carry around a new book like "The Well-Educated Mind: A Guide to the Classical Education You Never Had," by Susan Wise Bauer, and friends will leaf through it earnestly, dreaming of a day when they'll finally be conversant with Sophocles and Rene Descartes.
Laura Miller – The New York Times – 09.07.2003
"a timeless, intelligent book"
For serious self-educators, it's a well-balanced, long-lasting reading program. For book-clubbers, it's a brilliant guide on to how to analyze any given literary work — even if it's not on Bauer's list. And for college students in trouble, it's a quick gloss of books there wasn't time to read, plus sound advice on spotting critical fallacies. … Bauer has crafted a timeless, intelligent book.
Publisher's Weekly – © 2003 Reed Business Information, Inc.
"Bauer is a real rebel"
If she's not careful, Susan Wise Bauer will wind up a guru on PBS. … The author's lists of choices for "great books" are gutsy. Anyone can debate such lists; provocation is part of the fun of drawing them up, and Bauer is no slouch at it. For good reason, Mein Kampf makes the autobiography list, but she says she cannot finish Moby Dick and wants none of Joyce's Ulysses, called "too brutal to read." … Bauer provides good synopses for her selections and runs them right up to the present (inlcuding such novels as A. S. Byatt's Possession). She also adds short but spicy "histories" of her five genres. The history of the novel, she writes, is one grand circle, from the self-reflexivity of Cervantes to the metafiction of today. … For Bauer, history is both a literary pleasure and requirement for good citizenship. … Bauer is a real rebel; she does not mistake the last century of cranky half-truths from Frankfurt garrets and Sorbonne cafes for 2,500 years of philosophical aesthetics. All her genres include not only Dead White Males but also authors far beyond that usual cast of suspects. In contrast to both extremes of the culture wars, she proves you can speak two truths at once. … In the best sense, Bauer is a neoclassicist.
Tom O'Brien – America magazine – 09.14.2003
"a road map for the land of books"
If you find yourself both elated and sobered by that thought, I have a reading suggestion for you: a book that seeks to tame the Western canon and make the goal of being well read a bit more attainable for the harried twenty-first century reader. … In The Well-Educated Mind, Susan Wise Bauer holds out a helping hand to the individual seeking a road map for the land of books, a guide for getting the most out of one's (depressingly) finite reading time. Broad reading has long been the engine of classical education, and the author suggests that whatever your own educational background, it can work for you, too. … It's this holistic vision – presenting the continuity and innovation in literature from one age to the next – that makes The Well-Educated Mind so appealing. It encourages us to pursue life-long learning through great books – and to fuse the books we read into a comprehensive whole, an intricate map of the world. With this approach to reading, undiscovered countries soon become familiar haunts, and — book by book — the world around us grows richer.
Mark Bradshaw – watermarkbooks.com – 08.28.2003
"a great read"
Bauer's book came out this month, and hasn't even hit the shelves of the Central Rappahannock Regional Library on Caroline Street, but there are already 25 people on the list waiting to get their hands on it. … "People want to fill in the holes in their own education," Bauer said, explaining why she believes her book is so anticipated. "They're reverting to the books that people have always been talking about." … "Pride and Prejudice" by Jane Austen. "It deals with the indoor world of women, thus anticipating by a couple of hundred years the Oprah boom in women's fiction," Bauer writes in her book. … Bauer writes that Jane is a fully developed woman who "refuses to marry Rochester until she can be the dominant partner." A great read for young women.
Adele Uphaus – The Fredericksburg Free-Lance Star – 09.14.2003
Back to article Index